For as long as I can remember, I've liked to layer jewelry. I'm not sure if I got it from the women in my family or a magazine, but I've always found the look to be cool. My style has evolved in the type of jewelry that I'm stacking, but the method has stayed the same. Since the look is so "in" right now, I wanted to share my guidelines on how to layer your jewelry. I think it's so beautiful!
Bracelets
A woman's wrist is one of her sexiest features, so this is a great place to layer. If you're new to this look, start here. I always begin with the chunkiest piece, something like a thick chain or bangle, and put that on first. Then, I layer daintier pieces to follow. This way, the chunkier piece isn't hitting your hand all day. I even like to push the chunkier piece up my forearm so it stays. I think that looks cool. If I'm wearing a watch like my Panthere from Cartier, which I love to stack, I won't wear anything else that's large. I'll just do the watch and thin pieces.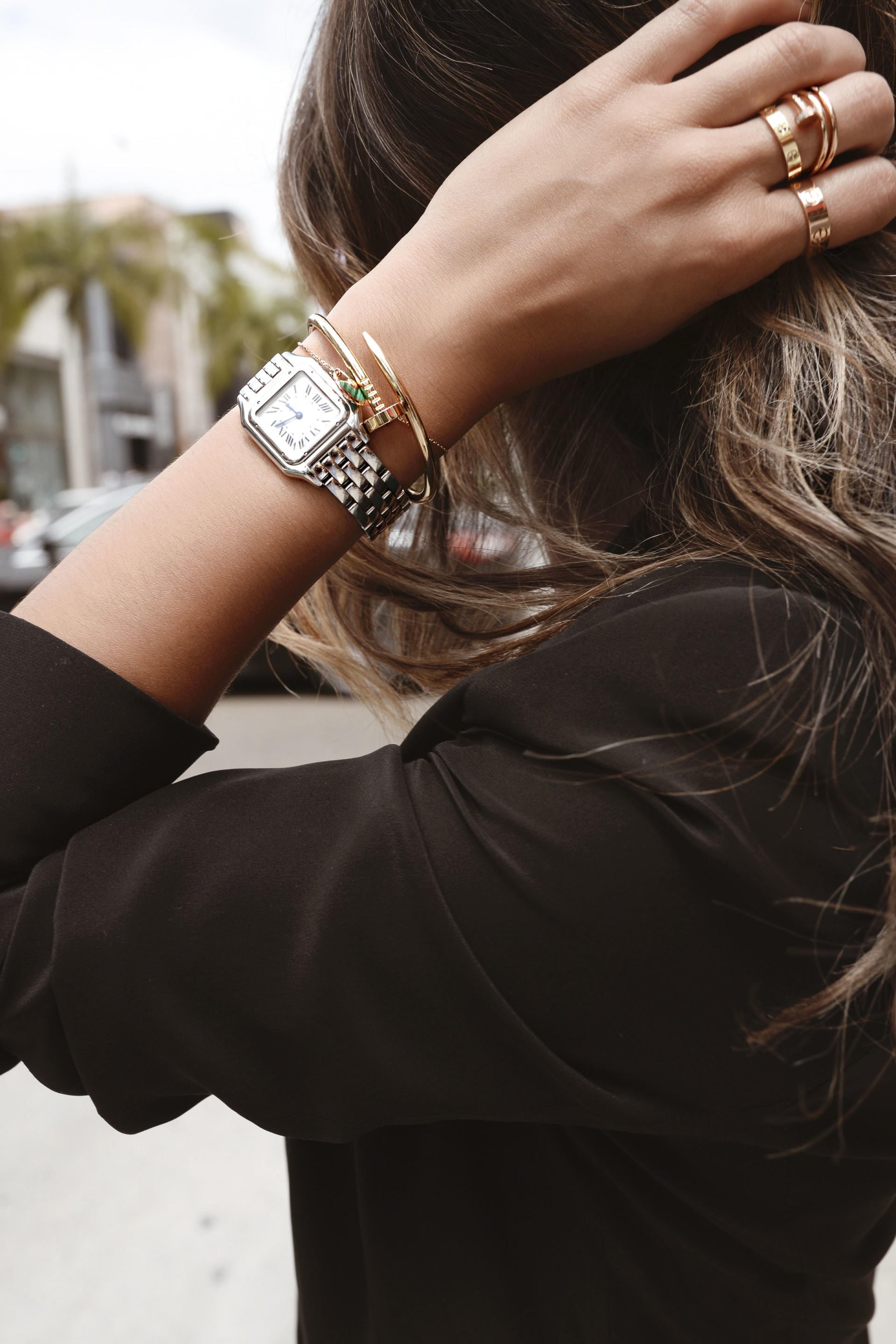 Rings
Rings are probably my favorite thing to stack because you can have fun with it. I tend to buy small, dainty rings more than statement ones, which are great for layering. I think it's a good idea to have thin gold and silver bands all over, then mix in unique pieces with those. A little diamond band or a shape. The look of mixed metals is definitely trending, so don't be afraid to wear multiple metals at once. I'm currently lusting over these Love Rings!
Necklaces
This might be the hardest area of the body to layer, at least in my opinion. It's the one spot I haven't always layered, but I do love the effortless feel that it brings to an outfit. It's kinda sexy, no? I've found that the key here is different lengths. Start off with your longest or shortest piece, then build from that. I also find that delicate necklaces stack better with other dainty pieces, and more statement necklaces look cooler with other bigger pieces.

Suit by Natalie Chapman // Carolina Herrera Shoes // Reiss Clutch
Special thanks to Cartier for sponsoring this post. All opinions are my own.