Pants are a wonderful thing, and there are so many exciting things happening with them in the fashion world. If all you've worn in the past week are skinny jeans, it's times for a change. There are so many styles to embrace right now that can transform your wardrobe and style. Scroll ahead for the pants all stylish women own.
Shop The Post

Careste Top (similar) || Petar Petro Pants || Zara Heels (similar) || The Row Bag
Plaid Pants
Plaid pants have been all over 2018 and by now should be a staple item for your wardrobe to easily dress up and add a sophisticated touch to any outfit. New York Fashion Week street style can confirm that the pattern is certainly continuing to have its moment this season – and they're now possibly the most stylish item in your closet.

Leather Pants
Leather pants may be intimidating for many, conjuring images of tough motorcycle chicks, but there are actually so many feminine styles. With leather pants, fit is crucial as the material doesn't typically have a lot of give to it. I like a cropped leather pant for a chic Parisienne look.

High Waisted Flares
For the ultimate flattering, leg-lengthening look, the high-waisted flare is your best friend. Whenever I put these on and look in the mirror, I always catch myself marveling at the amount of height they add. Wear them will heels so your legs do in fact go on forever, and pair it with a thin tied belt to accent your waist.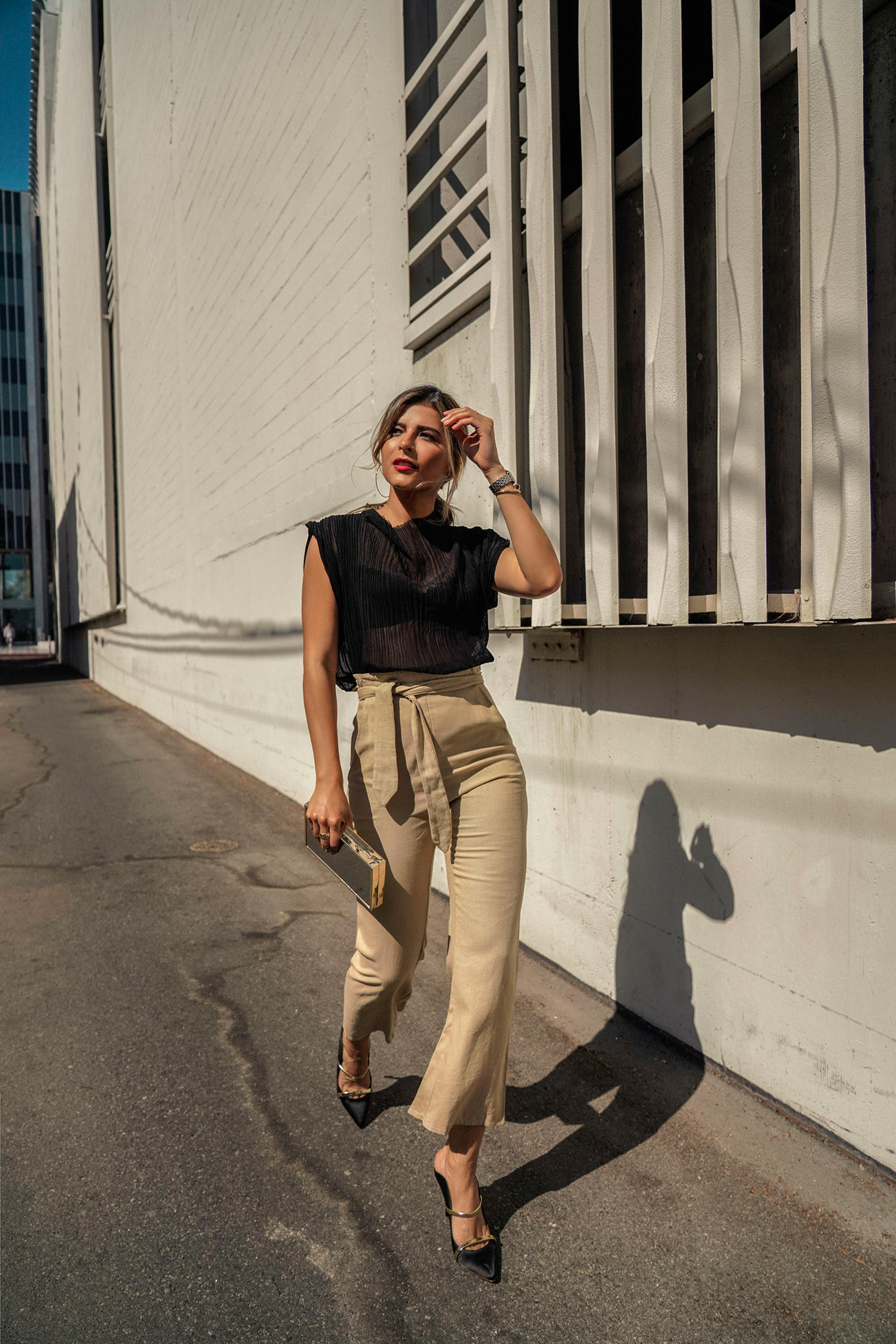 Cropped
Cropped trouser is always a favorite any time of the year and is still one of the trendiest things to wear from the office to the bar or a night out. There are just so many ways to wear them and plenty of feminine options too! Try a high-waisted style tied at the top to accent the waist or a flowy, pleated pair that almost looks more like a midi skirt. The key to finding the perfect pair of culottes that work for you is in the right length, and for most, that sweet spot hits just above the ankle.

Paper Bag
Another style I'm constantly drawn to is the paper bag pant. I love how the rippled paper bag effect at the waist reveals your silhouette. Since I'm often tucking in my tops into pants, this style is the one I'm often wearing. It really draws eyes to your best assets. With heels, paper bag pants come off tailored and sophisticated, but it can also be worn casually with flat sandals.

Which pants do you have in your wardrobe?