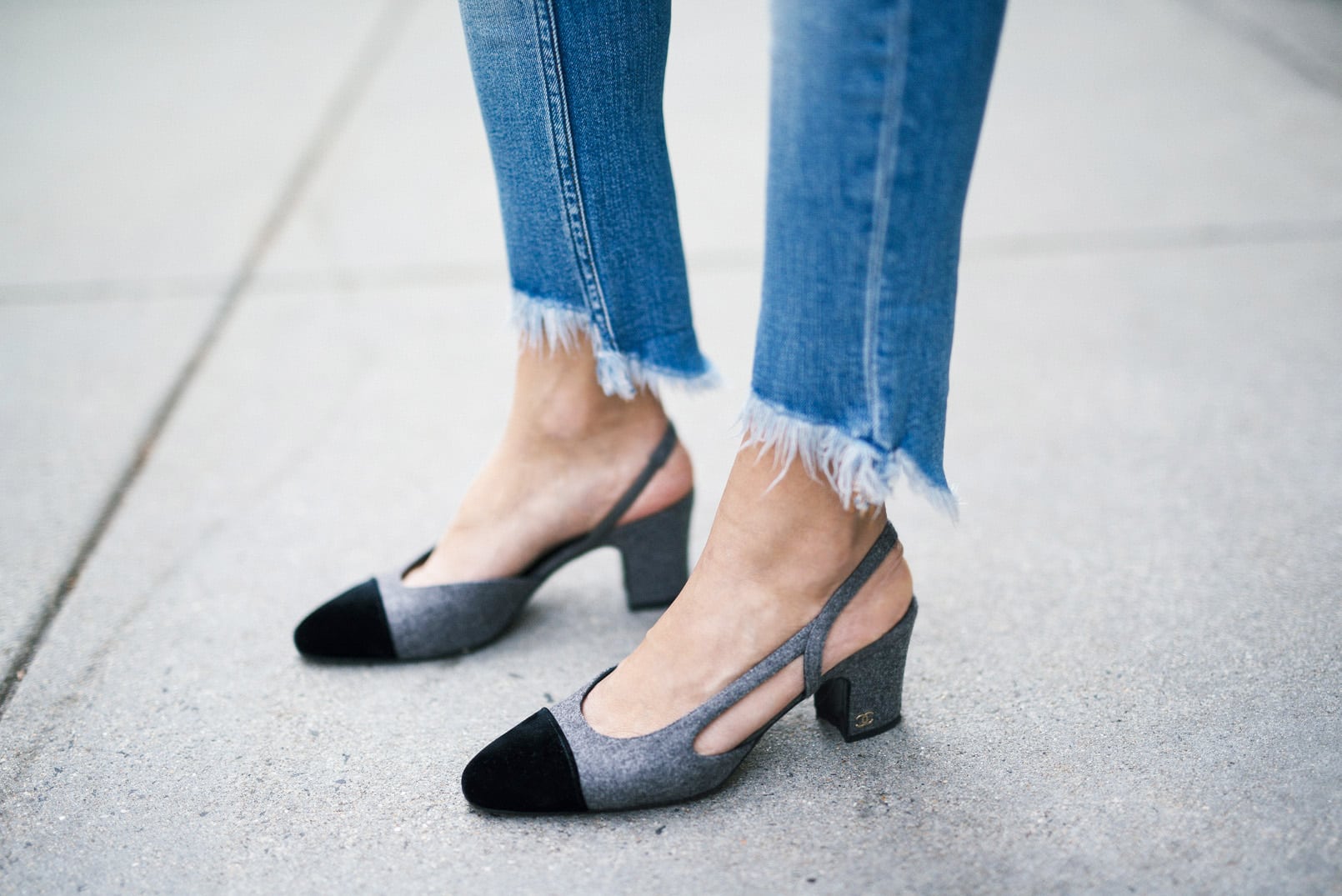 I've been wanting to get these shoes for a very long time now.  I just loved how chic and elegant they looked.  I actually visited several different CHANEL stores during my travels to multiple countries and I just couldn't find a pair in stock!  I finally was able to get my hands on a pair right in my backyard at the Boston-based store which was so ironic!
I'm really happy I found them, I feel like they do just a fantastic job of being stylish and comfortable.  Living in a city without a car forces me to walk everywhere.  I learned pretty quickly that I needed to do a better job of finding shoes that weren't just aesthetically pleasing, but felt great walking in as well.
Also, there really are a million different ways you can style the Chanel Slingback. I'm wearing them in a very natural and effortless way—jeans and a flowy, summery top.  However, I'm actually getting ready to travel on Tuesday and I'm definitely planning on bringing these with me and pairing them with a summer dress or a pair of denim shorts.  (Stay tuned for those pics!)
En Español
Me la he pasado buscando estos zapatos desde hace ya mucho tiempo. Desde que vi fotos, siempre me han parecido muy chic y elegante. Luego de haber visitado varias tiendas de CHANEL durante mis viajes a varios países finalmente pude poner mis manos en un par justo aquí en la tienda de Boston.
Apenas me los probé me di cuenta que era verdad lo que todo el mundo decía, son muy cómodas! Vivir en una ciudad (y sin carro) me obliga a caminar a todas partes y bueno, me tocó aprender bastante rápido que necesitaba hacer un mejor trabajo a la hora de comprar zapatos que no solamente fueran bonitos pero que también fueran buenos para caminar por toda la ciudad.
Estos zapatos te los puedes poner con muchas prendas que ya tienes en tu closet. Hoy les estoy mostrando una forma muy natural y sencilla de vestirlos;  jeans y un top veraniego. Mañana me voy de viaje y estoy pensando en llevar estos conmigo y para ponérmelos con un vestido de verano o un par shorts. (Manténgase sintonizado para las fotos!).
Shop My Look

Photos by Regan Cleminson